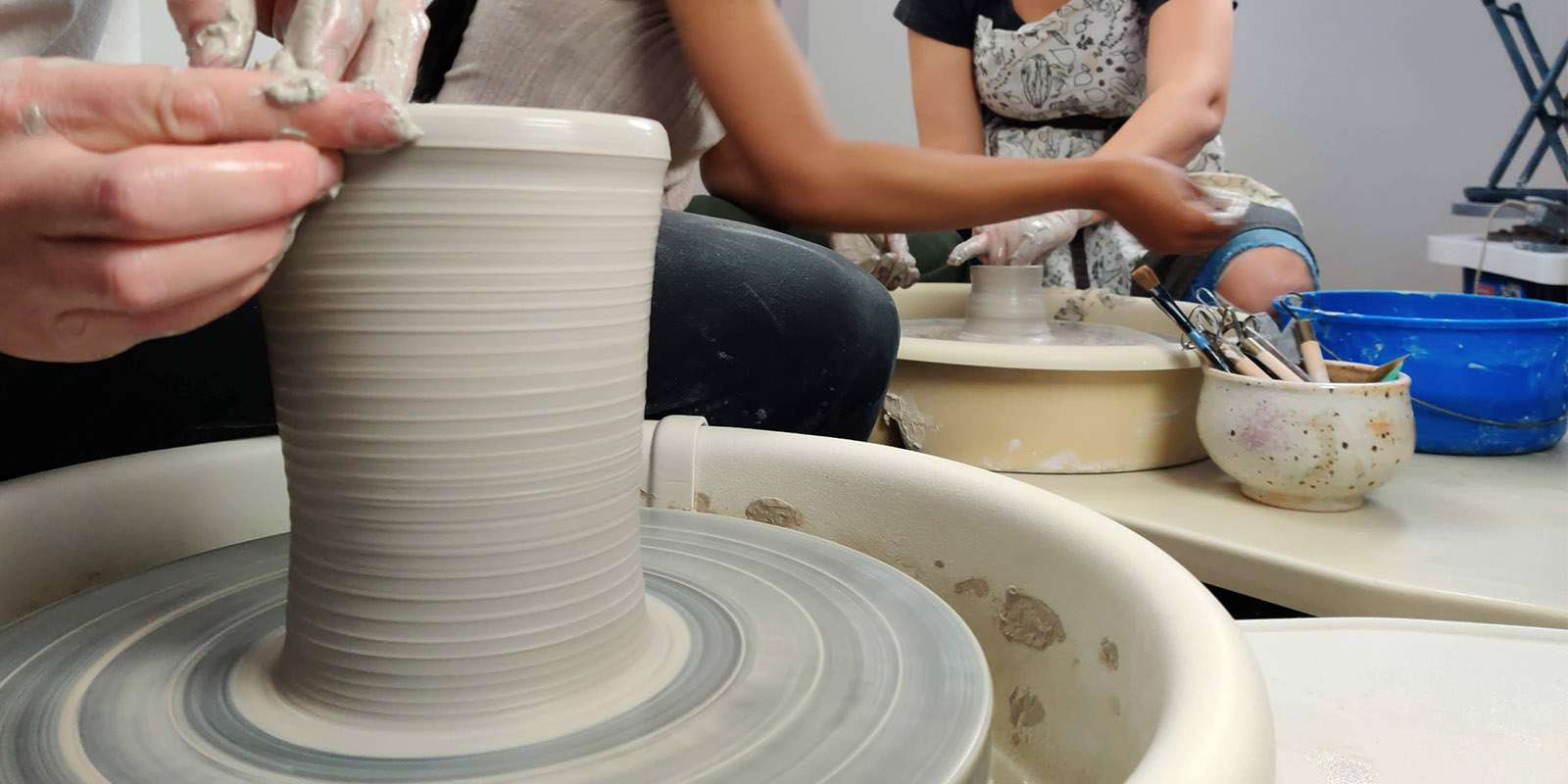 Workshops
Upcoming workshop topics and dates are listed below.
If you have a suggestion for a workshop, or are interested in teaching, we're always happy to hear from you. Email us at studio@amoca.org to start the conversation!
Artist Workshop Series
Quarterly workshops focused on artists and their signature techniques and approaches.
Upcoming Artist Workshops
January 7-8, 2023 • Adrienne Eliades: Pattern Making on Clay
10 AM-4PM Saturday & Sunday • $250
This two day, hands-on workshop will explore Artist Adrienne Eliades's unique approaches to clay. Eliades will demonstrate the use of pattern making in her own work and the throwing techniques she uses in her functional pieces. These sessions will also cover some traditional surface decoration techniques using underglazes as well as template making for transfers and masking. This workshop will be great for anyone looking to throw some pots and add some unique surface decoration to their work.
This workshop is open to people of all skill levels.
Tools, clay, and underglazes will be provided; additional materials will be available for sale. You are encouraged to bring your favorite tools from home to use during this workshop.
January 14-15, 2023 • Mette Maya: Abstractions in Clay
10 AM-2PM Saturday & Sunday • $250
Join Danish artist Mette Maya in the AMOCA studio for a two-day workshop on surface exploration and alternative building techniques. This two day, hands-on workshop will explore Maya's inventive approaches to working in clay. Maya will demonstrate the use of platers molds to construct unique organic structures in her own work. Maya will work with the participants to explore patterns and movement while constructing shapes from embossed clay. This workshop will be great for anyone looking to explore embossing in clay and using molds to create new patterns and movement in their own work.
This workshop is open to people of all skill levels.
Tools, clay, and underglazes will be provided; additional materials will be available for sale. You are encouraged to bring your favorite tools from home to use during this workshop
November 19-20, 2022 • Christina Erives: Surface and Approach
Breaking Ground: Women in California Clay artist Chrisina Erives came to the AMOCA studios to offer a two-day workshop on surface and approach.
June 19, 2022 • Demonstration with Shiyuan Xu (Chicago / Hangzhou, China)
Xu came to AMOCA for a one-day workshop following a weeklong residency at Idyllwild Arts Academy. Presented in partnership with the Hot Clay program at Idyllwild Arts.
March 26-27, 2022 • Peter Callas: Expressionistic Forms (New Jersey)
The launch of the Artist Workshop Series featured a special masterclass by artist Peter Callas, internationally renowned for his skill and mastery of wood-firing with the Anagama kiln.
Skill Building Workshop Series
A series of weekend workshops focused on specific skills and techniques.
Upcoming Skill Building Workshops
Past Skill Building Workshops
December 3, 4, 7, & 10, 2022 • Soda Firing w/Nathan Stanfield
Times vary, see details below • $350
Day 1: Saturday, Dec. 3, 10 AM – 5 PM

• Slide presentation, Glazing, Wadding

We will begin the first day with a slide show and instructional lecture on the process of soda firing, preparing work for the kiln, and the firing process. We will then begin glazing, decorating, and applying flashing slips to the work. After lunch we will start wadding our pots and prepare them to load by organizing them by size by the kiln. We will end the day with a meeting by the kiln to talk about the kiln loading process, how the load affects the look of the pots, and the different parts of the kiln and how they work.
Day 2 (optional): Sunday, Dec. 4, 10 AM – 5 PM • Kiln talk, Loading
On Sunday at 10am Nathan will begin loading the kiln. You are welcome to come by if you would like to watch, help out, or hang out. We will talk about decisions when loading this particular kiln, and how to make a cone pack.
Day 3 (optional), Tuesday, Dec. 7, 7 AM – 9 PM • Firing! Spraying will be sometime between 5-8 PM
Firing off the kiln! This style of firing will take 10+ hours. I check the kiln every 30-60 minutes. The results will be logged to create an informational document that is shared later on. If you'd like to join for a portion of the day it is suggested to come between 5pm – 8pm, as this is the time we generally will spray the soda solution.
While firing the kiln, participants will learn how to:
keep safety in mind while participating
check the cones and pyrometer for information
make adjustments to the damper and gas based on the information gathered
Between checks, Nathan will give instructions on:
how the burners work and the different parts they are made of
preparing the soda kiln solution
cones and how to make cone packs
making wadding and kiln wash
preparing kiln furniture for the firing
maintaining kiln shelves and furniture
designing work for these firings, clays, slips, etc.
Day 4, Saturday, December 10, 10 AM – 2 PM • The Big Reveal
On this glorious Saturday we will meet at the kilns to take our first look at the results and discuss what we see. We will unload the kiln, place the work in the studio according to how it was arranged on the shelves, and discuss what we are seeing. Nathan will instruct different methods of cleaning up the pots, removing wadding, and sanding. As a group we will clean up the kiln and kiln pad before packing up our work.
November 12-13, 2022 • Figurative Sculpture w/Aida Nicole Lugo Cantu • 10 AM–2 PM Sat & Sun • $150
This two-day bilingual workshop (English & Spanish) will include demonstration and hands-on participation. Class will meet 10 AM to 2 PM each day (Saturday and Sunday). Participants will learn hand-building techniques to create small studies of figurative sculptures.
October 22-23, 2022 • Steins, Beer, & Salt Firing w/T and Jon Pacini • 10 AM–3 PM / 10 AM–5PM • $225
Join southern California artists T and Jon Pacini for a Beer Stein-themed weekend! This 2-day workshop will include slide presentations on stein and ale bottle styles and a behind-the-scenes tour of AMOCA's Mettlach Collection as well as demonstrations and throwing time in the studio. On Saturday, participants will create beer stein and ale bottle shapes on the wheel. On Sunday, we'll learn lid decoration and handle-making to finish our vessels and get them ready for firing in the salt kiln. The weekend ends with a Sunday afternoon beer tasting.
July 9, 2022 • Architectural Incense Holders w/Eunbi Cho • 10 AM–3 PM • $75
Join Los Angeles-based artist Eunbi Cho for a three-hour skill building workshop. In this workshop, we'll create architectural incense holders using hand-building and slab techniques.
April 9-10, 2022 • Mold Making w/Colby Charpentier • 10 AM–3 PM • $325
Join artist in residence Colby Charpentier for this two-day workshop will cover designing plaster molds primarily for slip casting and press molding clay. We will go over plaster mixing, hand-ladled molds, and multi-part molds. There will be a combination of demonstration and hands-on participation. Students are asked to bring a few small models and ideas. We will choose one plaster mold project per student to work on through the weekend. Some clay experience is helpful.
February 27, 2022 • Clay Whistles w/Colby Charpentier • 10 AM–1 PM • $75
November 5-13, 2021 • Soda Firing w/Richard Burkett
Many thanks to Richard Burkett of San Diego for kicking off our return to in person activities with a soda fire workshop November 5-13.
Thanks for your interest in workshops and classes at the AMOCA Ceramics Studio! If you have any questions, requests, or suggestions, send us an email at studio@amoca.org or reach us by calling (909) 865-3146.
301 N Garey Ave Pomona, CA 91767
909.865.3146 | studio@amoca.org
The Studio is open by appointment only.
For information about museum exhibition hours and availability, please click the link below.