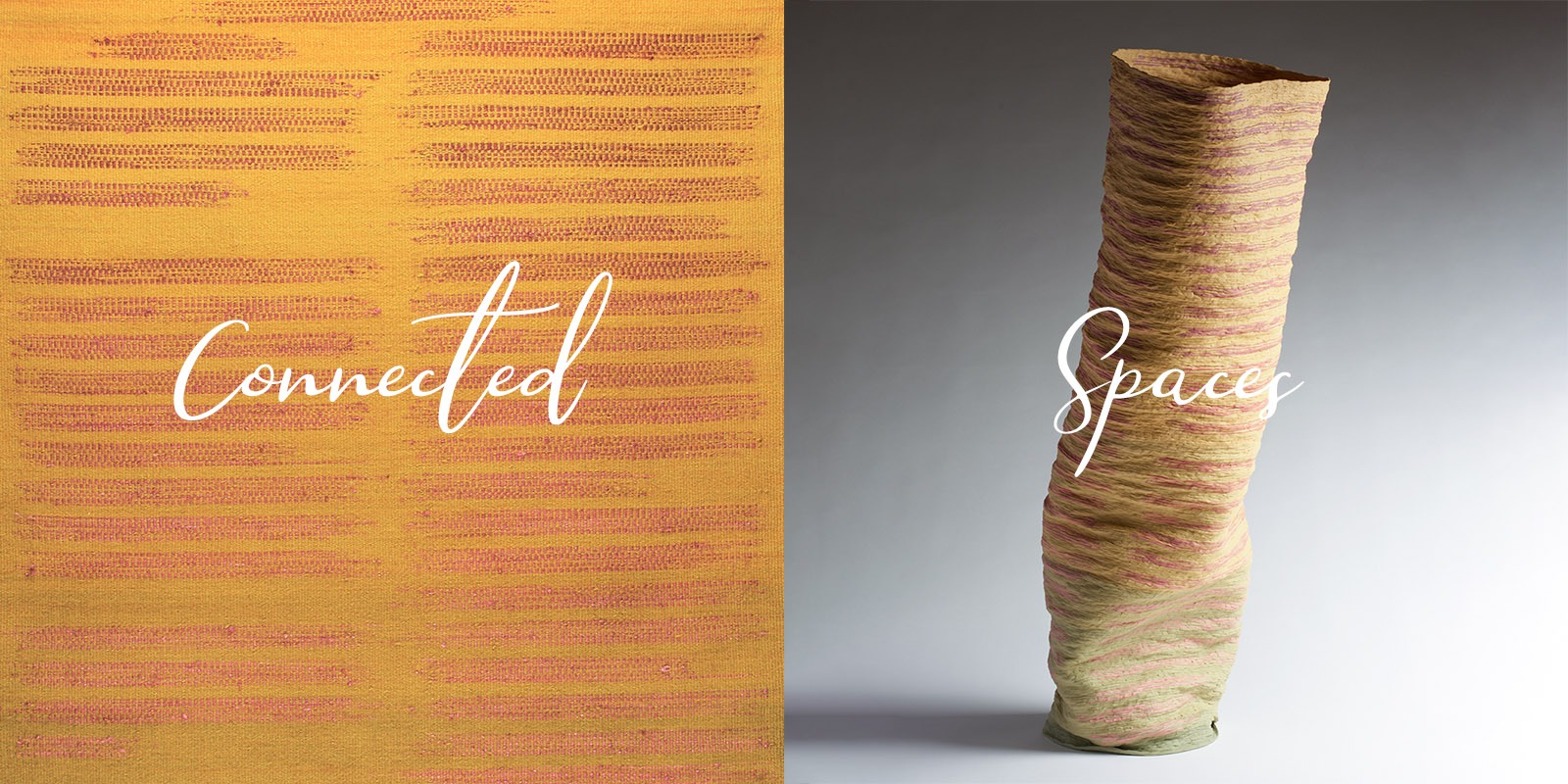 Pictured: two works included in the exhibition Connected Spaces. Pictured left: Michael F. Rohde, Heart (detail), 2016. Tapestry: wool, silk, natural dyes. 36 x 32 inches. Photo by Andrew Neuhart. Pictured right: Cheryl Ann Thomas, Gold Cipher, 2020. Porcelain. 34.5 x 17 x 15 inches.
Artist Talk & Reception for Connected Spaces: Cheryl Ann Thomas + Michael F. Rohde
Saturday, March 12, 2021 • 4–6 PM (Pacific)
Join us for an artist talk and reception for Connected Spaces: Cheryl Ann Thomas + Michael F. Rohde, on view at AMOCA. The artists and curator will lead a gallery walk starting at 4 PM, and light refreshments will be served during the reception that follows.
Admission to the event and Museum galleries is complimentary with advance registration. For information about at-the-door prices, check AMOCA.org/visit.
This exhibition is generously funded, in part, by the Boardman Family Foundation and The LA County Department of Arts & Culture.
Register for the event using the button below (it may take a moment to load). If you prefer, you may also register by emailing communications@amoca.org.
About the Artists & Curator
Cheryl Ann Thomas
Cheryl Ann Thomas, born in 1943 in Santa Monica, CA, received her BFA from the Art Center College of Design in 1982 and began practicing art full time in the late 1990s. Her first solo exhibition was in 2000, and her work has since been exhibited in solo and group shows in New York, Los Angeles, Boston, Santa Fe, Paris (France), and China. Her work is included in the collections of the American Museum of Ceramic Art, Museum of Fine Arts Boston, Museum of Fine Arts Houston, Fuller Craft Museum, Minneapolis Institute of Art, Cranbrook Academy of Art, Henan Museum in China, and the Gardiner Museum of Ceramic Art in Toronto, Canada. She is a grant recipient from the prestigious Pollock-Krasner Foundation, and received the Lee Krasner Award for Lifetime Achievement in 2020.
Thomas lives and works in Ventura, California.
Learn more on her website.
Michael F. Rohde
Michael F. Rohde, born in 1943, has been weaving since 1973 and completed his studies at the Alfred Glassel School of the Houston Museum of Fine Arts in 1981. His work has been included in the United States Department of State Art in Embassies Program, exhibits at the Textile Museum in Washington, DC, the American Craft Museum in New York, the invitational Triennial of Tapestry in Lodz, Poland, from Lausanne to Beijing, solo exhibits at the Janina Monkute-Marks Museum in Lithuania as well as at the San Luis Obispo (CA) Musuem of Art, and in an exhibition at the Mingei International Museum in Balboa Park in San Diego. His work is in the permanent collections of the Textile Museum (Washington, DC), the Mingei International Museum, the San Jose Museum of Quilts and Textiles, the Ventura County Museum of Art, the Racine Art Museum, and The Art Institute of Chicago.
Rohde lives and works in Westlake Village, California.
Learn more on his website and follow him on Instagram.
About the Curator
Jo Lauria is one of Southern California's foremost curators of ceramic arts. A former curator of decorative arts at LACMA where she organized the seminal exhibition Color and Fire: Defining Moments in Studio Ceramics, 1950-2000, Lauria's past curatorial projects at AMOCA include Common Ground: Ceramics in Southern California (1945–1975), Honoring the Past, Embracing the Future: AMOCA's 10th Anniversary, Discovering Saar Ceramics, and Silver Splendor: The Art of Anna Silver.
Learn more at JoLauria.com or follow her on Instagram.